Both England and Italy were touted as the 'dark horses' of UEFA Euro 2020,  but they now have a realistic chance of winning the 16th edition of the UEFA European Championship with only one match left. They will meet each other at the Wembley Stadium in London, Sunday late evening. In the two semifinal matches, England saw off a spirited Denmark with a 2-1 win in extra time whereas Italy defeated a much-fancied Spain side via penalties. This epic clash has all the ingredients of a classic. England has not won a major international trophy since their 1966 World Cup triumph and is expected to win their maiden continental trophy in front of the home crowd. England's best performances at the finals were a third-place finish in Italy in 1968, when only four teams competed in the tournament, and one semi-final, on home soil in 1996, when they lost to Germany on penalties (incidentally Gareth Southgate missed that day). Italy, on the other hand, has gone from failing to qualify for the 2018 Fifa World Cup to make it to the Euro 2020 final. Italy has won the European Championship once in 1968 on their home soil and has twice finished runners-up in 2000 and 2012. Let's do a quick Euro 2020 final match preview and find out the respective team news, expected line-ups, formations, and team strategies.
Head to Head
Italy and England have met each other 27 times in all competitions, with the former triumphing on 11 occasions to the latter's 8 wins. The last time they met, was three years back in an international friendly at the same venue, where they drew. Italy has had a spectacular run since their 2018 Fifa World Cup failure to reaching the Euro 2020 final, unbeaten in a record 33 matches.
ENGLAND
Team news:
Gareth Southgate likes to field a 4-2-3-1 team formation and is unlikely to change it against Italy. He will get a fully fit squad at his disposal against Italy in the finals.  Raheem Sterling has been superlative right through the tournament chipping in with crucial goals and winning a match-defining penalty against the Danes in semis. Skipper Harry Kane has yet again picked up his game at the right moment for his country scoring 4 goals in
the last 3 knock-out matches. He is just two-goal away from winning the 'Golden Boot'. England's back four has been extremely consistent with Harry Maguire leading the backline. Both he and John Stones has been spectacular in the tournament. Not only do they defend well but also pose an aerial threat in the opponent's box.  Another player who has had an excellent tournament is their 27-year-old Everton keeper Jordan Pickford. He has kept 5 clean sheets in his 6 outings and has just conceded once.
Strategy:
Gareth Southgate expects to carry on with the same consistency and good form. The midfield has to be agile and needs to constantly feed the attacking third with intelligent passes and put more crosses in the box. They also need to spread their play to the wings where they can utilize the speed of Kylie Walker, Bukayo Saka, and Raheem Sterling. With Italy looking shaky in the left-back position with Spinazolla's absence, Walker and Saka are expected to run riot. The two defensive midfielders Kalvin Philips and Declan Rice will have their work cut out to contain the brilliant Italian midfield trio of Verratti, Jorginho, and Barella. They will have to disrupt Italy's passing game and not let them control the center of the park.
Predicted starting line-up: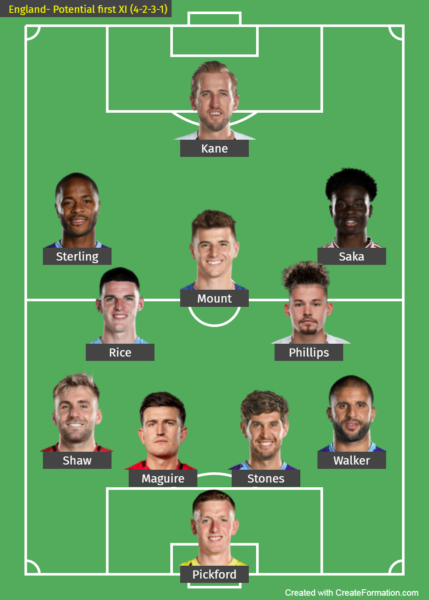 Italy
Team News:
Italy has been the standout team of the tournament so far, winning all their matches. They have brushed aside teams like Belgium, the current world number one, and an in-form Spain to reach the finals. Roberto Mancini has drastically transformed the national team after Italy failed to qualify for the 2018 FIFA World Cup in Russia. Their red hot form stretches to almost four years when they suffered a shock defeat to Sweden in the 2018 World Cup play-offs. Italy has excelled in almost each and every position
on the pitch in the tournament barring the left-back position where they suffered a huge setback when Spinazzola tore his Achilles tendon against Belgium. The midfield trio of Barella, Jorginho, and Verratti has been brilliant throughout the tournament with defensive stalwarts Chiellini and Bonucci giving solidity to the backline. The swiftness and guile of Insigne and Chiesa will give Italy an edge over England. Though Chiesa had a slight niggle against Spain, he will be ready to start.
Strategy:
Mancini doesn't frequently change his formation and has utilized an open and attacking 4-3-3 formation in almost every match. Mancini's formation gives a perfect blend of action and reaction. His team has the ability to press opponents high up the pitch with their passing and attacking prowess and can also resort to a compact and solid midfield by crowding players when the opponent team attacks. The midfield and backline stay very close and coordinate very well. Their passing and ball distribution in the middle of the park is outstanding. The defensive line looks nearly impenetrable with Bonucci and Chiellini as the two central defenders. One position Mancini will be a little wary of is the left-back position where Emerson has failed to replicate Spanizzola'ss work rate. Ciro immobile started the tournament well but has been extremely wasteful in front of the goal in the last few matches. He needs to convert his chances. Gianluigi Donnaruma is expected to carry on with his good form in goal.
Predicted starting line-up: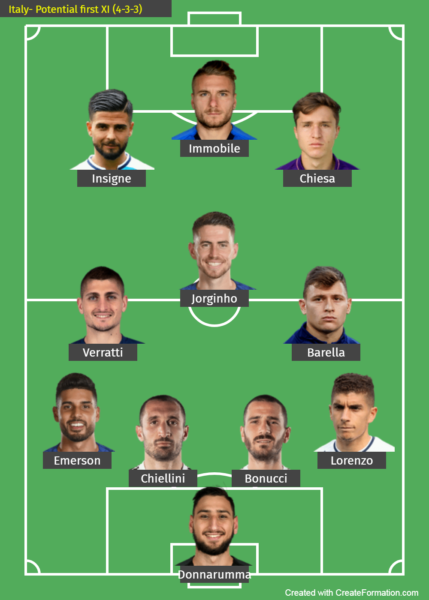 Prediction:
This is surely a match of equals, and hence it is very difficult to predict a clear-cut winner. But I will go with Italy edging past England 2-1 at Wembley.