Is the Brazilian team the real contender for this year's Fifa World Cup?Is Tite's Brazil unbeatable? Let us analyse this 'formidable' team and its probable formations that it is most likely to play under the team's Head Coach Tite.
Since  Tite has taken over the reins of the team from Dunga, the Brazil national team has done exceptionally well in the South American qualifiers as well as in the following friendly internationals. Tite took charge in June last year after the team went out of the Copa América and was struggling in sixth place of the South America qualifiers. He engineered a remarkable turnaround and Brazil became the first team to qualify in the FIFA World Cup 2018.  Brazil has since then played 19 games under Tite out of which they have just lost only one friendly game (vs Argentina) with a total win percentage of almost 80%.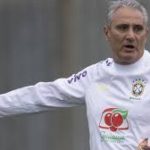 Hence it is quite natural that under Tite, Brazil is deemed as one the strongest contenders in the upcoming FIFA World Cup. But what do you think about their chances in reality? Let's have a quick look at their probable first eleven, team formation and strengths/weaknesses. Unlike Tite's predecessor Dunga, he plays an attacking game with a lot more emphasis on wing play. It has been rightly said that he has brought back the old Brazilian swagger and pragmatism. Tite has followed a 4-3-3 formation throughout his latest international stint.  His probable eleven would be (if no injuries happen) Alisson in goal, Dani Alves and Marcelo the two fullbacks, Miranda and Marquinhos deployed as central defenders, Casemiro and Paulinho as Defensive midfielders  with Coutinho as the number 10, the front line will consist of the ever flamboyant Neymer, Gabriel Jesus and Willian. The 3 probable changes during the game would be Renato Augusto, Douglas Costa and Roberto Firmino. Out of this only 3 to 4 players were regular to last World Cups first 11 meaning that the others are fairly inexperienced in regard to World Cup. This will be a major hurdle when it comes to facing big, robust and fast paced European sides in Russia. However, Brazil's defence is at its peak with all back four performing very well along with the Goalkeeping position. Alisson has been one of the best goalkeepers this season keeping in mind his performances for both club and country. He has a very able backup in Ederson . The fullbacks are the only position in this Brazil team which is unchanged from last World Cup with an ageing Dani Alves and Marcelo carrying the mantle. Marquihous and Miranda has been so good throughout the season that players like Thiago Silva and David Luiz have been pushed to the bench. But Brazil's weakest position is the midfield position where they will have to depend on the likes of Casemiro,Paulinho and Coutinho. Casemiro and Paulinho are solid players but not among the fastest. Their ball distribution is also not the very best. On the other hand Coutinho's best position as we all know is the left flank which obviously he has to sacrifice because of Neymar. Due to his dribbling ability, pace, and shooting prowess left flank is his dream position wherein he likes to cut in and shoot as he consistently did in his Liverpool days. But Tite would like him to play in the midfield three where he can do the job of a number 10 which Oscar did so efficiently in the last World Cup. In the modern game, the number 10 position is not only about creating chances and scoring goals but also putting pressure on the opposition's defence and disrupting their game play. Hence a player like Oscar who has had the experience in playing in the last World Cup should have been in the Tite's squad despite plying his trade in an unfancied Chinese Super league. He had all the traits of a modern day number 10 player. The front three of Neymar , Gabriel Jesus and Willian is undoubtedly a deadly combination on papers but when it comes to reality there is a big question mark. Neymar is recuperating from an injury on his right foot. But can he back to the squad with full fitness ?Can we get the best of Neymar? Or shall we see a shadow of himself in Russia. These are the questions only time will tell. Although Tite favours Gabriel Jesus  over Firmino for the number 9 position, the latter is a much better fit with his all round game play and Jurgen Klopp has shown the world how effective Firmino is in the number 9 position..Tite should definitely start him ahead of Jesus. Willian is probably the only player in the front three who has had a wonderful injury free season with his club and will hopefully will carry the same form to Russia.
Hence it can be said that the Brazilian team which looks unbeatable on paper is a complete farce. If Tite doesn't tweak certain changes in the Brazilian team's formations and players, their weaknessess will soon be highlighted in matches where they play the likes of Switzerland, Serbia or as a matter of fact Mexico or Sweden in the first phase of knockout (i.e. round of 16).