FIFA World Cup trophy is just like a Holy Grail that all soccer-playing countries and players dream of lifting. Only 8 countries and their players have been fortunate enough to lift the coveted trophy out of a total of approximately 211 soccer playing countries (as per FIFA). The winning players are known and remembered as legends and we often tend to forget the players who did not manage to win the alluring trophy. The beaten warriors with their teams shouldn't be forgotten as they failed to win the FIFA World Cup. We have to remember that winning or losing in a World Cup tournament is often balanced on a knife's edge wherein a fortuitous goal, a brilliant save, a goalkeeping blooper or an erroneous refereeing decision can change the course of the game. Qualifying from amongst 211 soccer-playing nations in the FIFA World Cup finals alone is an outstanding feat and should be applauded. Keeping that as my perspective, I have compiled a list of the 'Greatest XI not to have won the FIFA World Cup'. Neither these footballing greats nor their teams have ever won the coveted tournament.
Based on a conventional team formation of 4-4-2, the list goes like this:
Goalkeeper-Lev Yashin(USSR)
Lev Ivanovich Yashin often referred to as the 'Black Spider' or 'Black Panther' of the USSR, is regarded as the greatest goalkeeper in the history of football. He was the first goalkeeper to play as a sweeper and imposing his authority on the defense. He spent his entire football club career for 20 years with Dinamo Moscow winning a wealth of trophies. He was USSR's undisputed first-choice goalkeeper for continuous 13 years but never managed to win the FIFA World Cup trophy. His best finish was a fourth place in the 1966 FIFA World Cup.
Defenders-Denis Irwin(Ireland), Jaap Stam(Netherlands),Jose Santamaria(Uruguay), Ruud Krol(Netherlands)
Denis Irwin(Ireland), was a Manchester United legend who played in the right full-back position. He was brilliant in his position and had both defensive and attacking attributes. He played over 360 matches for his club and over 55 matches for his country. His only representation in FIFA World Cup was in 1994, where they lost in the round of 16 to the Netherlands.
Jaap Stam(Netherlands) was a robust center-back and was known for his speed, ball distribution abilities along with tremendous positional sense in his own box. He played for a number of major clubs like PSV Eindhoven, Manchester United, Lazio, Milan, and Ajax. He played over 67 international matches for the Netherlands. Japp Stam's outstanding performance in the 1998 World Cup will be long remembered where his team finishes fourth in the tournament.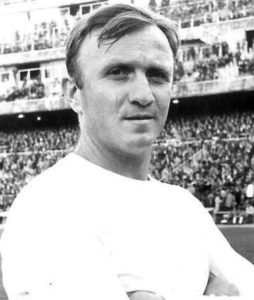 Jose Santamaria(Uruguay) was one of the best defenders ever to play the game. He played for Real Madrid for nearly a decade and was instrumental for Real Madrid's early dominance in the European Cups. He was equally successful in his national colors putting up an excellent display in the 1954 FIFA World Cup. They lost out to Hungary in semi-finals. He was included in the 'World Cup All-Star Team' in 1954.
Ruud Krol(Netherlands) was a left fullback who played the major part of his club football career for Ajax. He was a fleet-footed full-back with brilliant passing ability, tactical intelligence, great shooting ability. He won 83 caps for his nation. He was one the unfortunate members of Netherlands squad who finished runners-up in the 1974 and 1978 FIFA World Cup
Midfielders-Luis Figo(Portugal), Johan Cruyff(Netherlands), George Best(Northern Ireland), Enzo Scifo(Belgium)
Luis Figo (Portugal) was renowned for his creativity and ability to get past wingers at ease due to his brilliant dribbling ability.He is one of those rare players who has played his club football both for Barcelona and Real Madrid. He won the Ballon D'Or in 2000 and the FIFA World Player of the Year in 2001. Although he won the Under-20 FIFA World Cup, he never went on the replicate the same with the senior team which he represented in 2002 and 2006.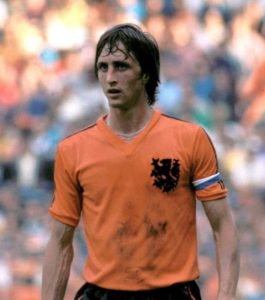 Johan Cruyff (Netherlands) a three-time Ballon D'or winner (1971,1973 & 1974), is regarded as one of the greatest players to grace the game of football. He was the most famous exponent of the football philosophy total football. Cruyff spent his major club career in Ajax and Barcelona. He will always be remembered for his exploits in the 1974 FIFA World Cup where his team narrowly lost out to West Germany in the finals. He won the Golden Ball award in the tournament.
George Best (Northern Ireland) was the greatest player to have donned the green jersey of Northern Ireland and also a Manchester United legend. He was arguably the best dribbler in the game. His game attributes combined body feints, balance, skill with both feet, finesse shot, and an eye for goal. He won the European Footballer of the Year trophy in 1967. But to his misfortune, Northern Ireland never managed to qualify for FIFA World Cups in 1966,1970 & 1974 during his playing tenure.
Enzo Scifo(Belgium) is arguably the best Belgian midfielder in the 1980s and 90s. He till today is regarded as the finest player by the Royal Belgian Football Association(Belgium's Football Federation). He played like a classic number 10 playmaker just behind the strikers due to his great ball control, amazing skill, and creativity. He played his club football in Belgium, France, and Italy. Scifo won 84 caps for his country and is one of the very few players to play in four consecutive FIFA World Cups. His country finished fourth in the 1986 FIFA World Cup.
Forwards- Eusebio(Portugal) & Marco Van Basten(Netherlands)
Eusebio(Portugal) is still today regarded as the best Portuguese player to have played the game competing with the popularity of Cristiano Ronaldo and Luis Figo. He was known for his speed, technique, athleticism, ferocious right-footed shot, and his predatory instincts in front of the opponent's goal.  He played the majority of his club football for Benfica. Eusebio won multiple individual awards like BallonD'or in 1965, FIFA Golden Boot in 1966, European Golden Boot in 1968, European top scorers award in 1965,1966 and 1968, etc. His performance and contribution in the 1966 FIFA World Cup are still being talked about by the football fraternity. Portugal narrowly lost out to the eventual winners England in the tournament and finished a creditable third.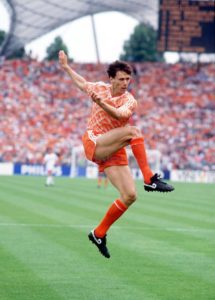 Marco Van Basten(Netherlands) was one of the most gifted players to feature on this list. He was one of the best European forwards and prolific goal scorers of all time. He played his club football for Ajax and AC Milan. He won the ballon D'or three times (1988, 1989 & 1992) and was also named the FIFA World Player of the Year in 1992. His outrageous volley against the USSR in the 1988 European Championship finals is still fresh in our minds. Sadly he never scored a goal in the FIFA World Cups.
Substitutes: Edwin Van der Ser(Netherlands),Billy McNeil(Scotland), Carlos Gamarra(Paraguay), Ryan Giggs(Wales), Micael Laudrup(Denmark), Johan Neskeens(Netherlands), Denis Bergkamp(Netherlands).